HOME
>
Magazine
Chain retailer goes public, corners pop toy sector
Date : 2022-07-21 09:39:20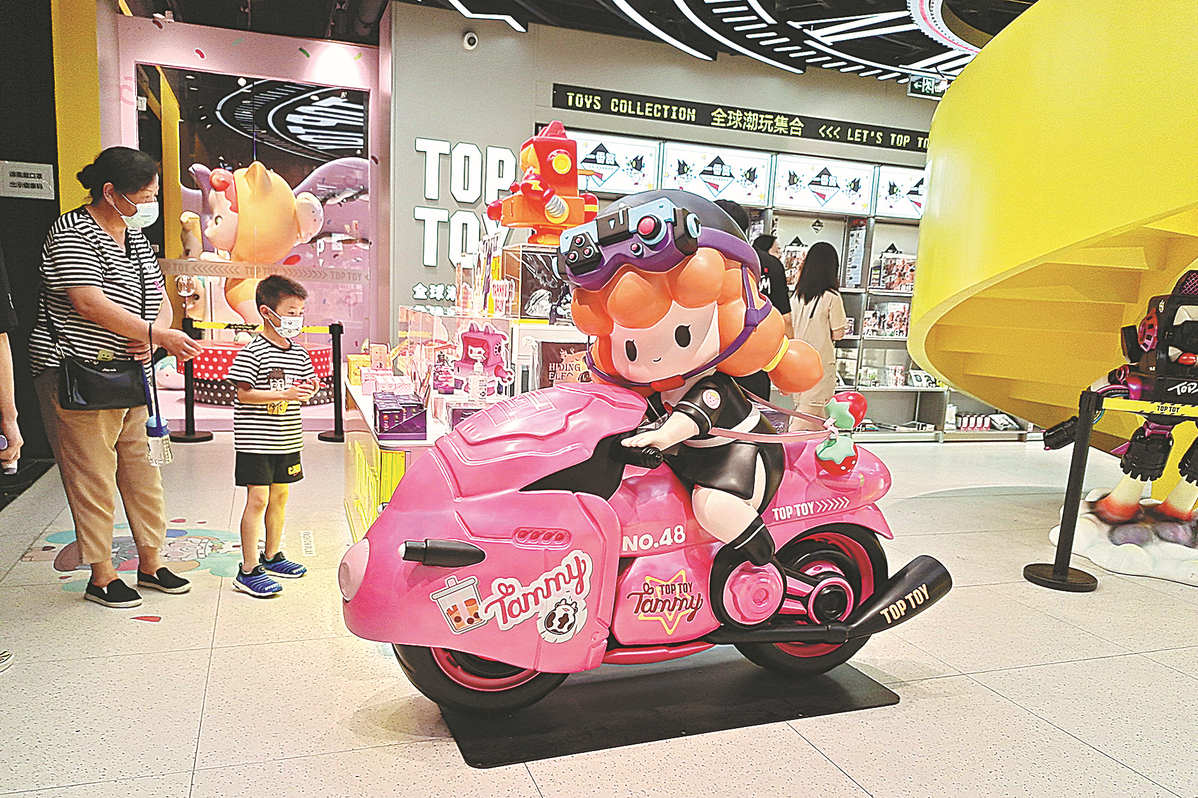 Consumers browse at a Top Toy outlet in Shanghai in October. [YAN DAMING/FOR CHINA DAILY]
A niche has developed for integrated retailers of home furnishing products and pop (popular) toys, as young Chinese consumers have been increasingly pursuing fashionable lifestyles and buying products to fulfill their personal preferences.
On July 13, Guangzhou-based Chinese budget chain retailer Miniso Group Holding Ltd went public on the Hong Kong stock exchange. The listing price was set at HK$13.8 ($1.76) per share, and it issued 4.11 million shares in Hong Kong and 36.99 million shares in overseas markets, according to the company.
Miniso said the COVID-19 pandemic has had a certain impact on its sales in first and second-tier cities in China, and it is focusing more on opening new stores in third-tier or smaller cities.
In the past half year, the company has also further expanded its footprint overseas by opening a store in the SoHo area of Manhattan, New York. The company said it is optimistic about growth prospects in the North American market, and it plans to open more new stores in the future.
Last year, the global gross merchandise volume of Miniso reached 18 billion yuan ($2.66 billion), and it has become the largest integrated retailer of home furnishing products worldwide, after opening its first store in China in 2013. Due to the COVID-19 pandemic, the company's revenue growth has slowed down, but the growth rate has still been higher than the industry's average, according to consultancy Frost & Sullivan.
In the meantime, Ye Guofu, founder of Miniso, said he is bullish on the growth potential of the pop toy market in China, and he hopes that within three years, Miniso's wholly owned subsidiary Top Toy, a Chinese toy brand that was founded in late 2020, will go public individually.
As of the end of March, Top Toy, which aims to become a global pop toy collection brand, operated 92 stores nationwide. Compared with Hong Kong-listed toy brand Pop Mart, which mainly sells trendy toys packaged randomly in boxes, Top Toy offers toys in eight main categories, including building blocks, garage kits, sculptures and blind boxes containing cartoon figurines.
"China's new groups of consumers include young people who were born in the 1990s. Some of them have already become parents who wish their children can become more trendy, so they are willing to spend money on purchasing more pop toys," said Sun Yuanwen, founder and chief executive officer of Top Toy.
"The consumption market is expected to become more dynamic in China. Despite the pandemic causing certain challenges to the domestic consumption market, the major growing trend will remain unchanged," Sun said.
Other major Chinese pop toy retailers, such as Beijing-based 52Toys and Beijing Block 12 Culture Co Ltd, are also witnessing positive business performance and expanding their presence.
As of 2020, China had 253 million children aged below 14 years old, data from the 2020 national census show, and the third-child policy that was announced in March 2021 is expected to help encourage more newborns and the growth of the pop toy industry, industry experts observed.
Last year, sales in China's pop toy market achieved 36.6 billion yuan. From 2021 to 2024, the sector's compound annual growth rate is expected to reach 27.7 percent. Still, the market is in its infancy in China and there exists significant growth potential in the next few years, according to Frost & Sullivan.
"The continuous expansion of creative products and pop culture in China will be beneficial to help attract more fans from different age groups for toy retailers. With frequent discussions and engagements of pop culture, many consumers who occasionally buy pop toys have become frequent buyers," said Neil Wang, global partner and China unit president of Frost& Sullivan.
"Besides, pop toy retailers have participated in various exhibitions and activities in the past few years. Next, more such events and exhibitions are expected to be held in China," Wang said.